The continued Worldwide Covid-19 pandemic has caused massive disruption to the global aviation ecosystem. 2021 marks the fifth edition of AviaDev Africa and now more than ever it is important to face the headwinds and engage in proactive discussions that will enhance air connectivity to, from, and within the continent. With many aviation stakeholders facing uncertainty, now is a better chance than ever for the African aviation community to come together to forge new collaborations and partnerships to ensure that Africa remains connected regionally and internationally.
A Bleak Year for African Aviation
At the end of 2019, shortly before the onset of the COVID-19 pandemic, the outlook for African Aviation in 2020 was positive. According to CAPA, Total seat capacity in Africa was up by 4.3%, with LCC capacity in particular up by 13.3%. Ethiopian Airlines grew to be one of the largest carriers not just in the region, but globally, and non-African airlines seat-share was down to just 40%.
According to data released by the International Air Transport Association (IATA), 2020 was a bleak year for Africa's aviation industry.
Job losses in aviation and related industries could increase by up to 3.5 million. That is more than half of the region's 6.2 million aviation-related employment and 400,000 more than the previous estimate.
Full-year 2020 traffic is expected to plummet by 54% (more than 80 million passenger journeys) compared to 2019. Previous estimate was a fall of 51%.
GDP supported by aviation in the region could fall by up to $35 billion. IATA previously estimated a $28 billion decline.
Broken down by country, the data was also quite shocking:
COUNTRY
JUNE PAX ESTIMATE (MILLIONS)
AUGUST PAX ESTIMATE (MILLIONS)
JUNE JOBS AT RISK
AUGUST JOBS AT RISK
APRIL GDP
(US$ BILLIONS)
AUGUST GDP
(US$ BILLIONS)

South Africa

-15.6

-16.6

269,000

287,700

-5.1

-5.8

Nigeria

-5.3

-5.7

139,500

149,400

-0.9

-1.1

Kenya

-3.8

-4.0

207,800

223,600

-1.6

-1.8

Rwanda

-0.47

-0.5

17,300

18,500

-0.06

-0.07

Ethiopia

-2.6

-2.8

530,400

564,100

-1.9

-2.1
What is AviaDev Africa?
AviaDev is embedded within and dedicated to the African continent. Celebrating its fifth edition in 2021, AviaDev Africa is the premier forum dedicated to growing connectivity to, from and within the African continent. Bringing together airports, airlines, tourism authorities, governments and industry suppliers on a digital platform, AviaDev offers attendees the ability to pre-arrange meetings on a secure platform and make those important connections.
Unlike other events, AviaDev has a unique focus on niche-markets with annual events in both Africa and Europe, focusing on route-development and connectivity. Alongside this is a real focus to connect attendees through panel-discussions, speed networking and 1-2-1 meetings.
Given the scale of the pandemic, the decision has been made to hold a virtual version of AviaDev Africa 2021. Ravinala Airports will remain the host for the digital event and will use the platform to showcase what Madagascar has to offer when the live event is expected to take place in 2022.
This year's event runs from 9th-11th June, with attendees being able to register online at: https://aviationdevelop.com/africa.
What can I expect from the conference?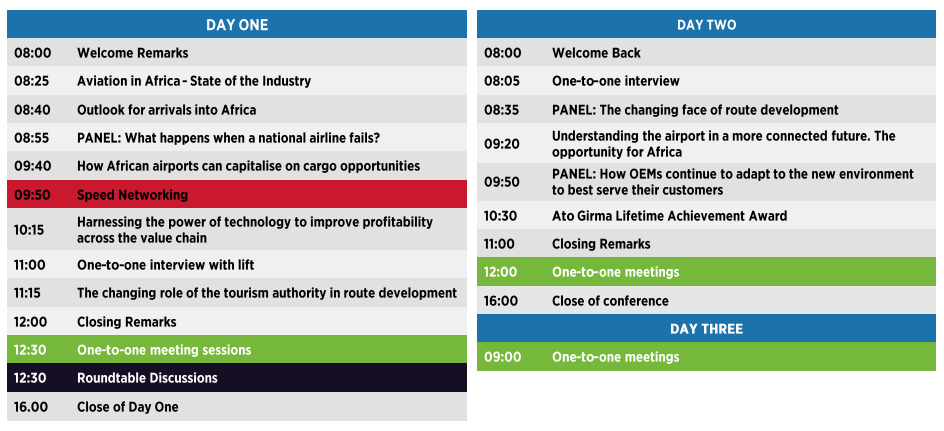 AviaDev aims to maximise the benefit of all attendees at the conference, and so carefully balances the three-day program between interviews, panel-discussions and one-to-one networking meetings.
On the morning of day one, attendees can expect a range of discussions focusing on the current state of the African Aviation industry, outlook for the resumption of arrivals and tourism in the region, air-cargo opportunities for the region's carriers and the uptake of technology to improve profitability. The start of the day is punctuated with a panel-discussion and speed networking opportunities to maximise connections between those present. The remainder of the day will include roundtable discussions and opportunities to engage in pre-booked 1-2-1 meetings to form new connections.
On day two, attendees can expect an interesting morning of further discussions around route-development, airport development and interview with prominent African Aviation figure Girma Wake, former CEO of Ethiopian Airlines and Chairman of RwandAir. Like day one, the afternoon includes opportunities to engage in more pre-booked meetings and continue to foster and build new relationships.
Day three marks the final day of the conference, with the whole day dedicated to meeting session slots for those that were not able to book sessions on the first two days.
Who will be in attendance?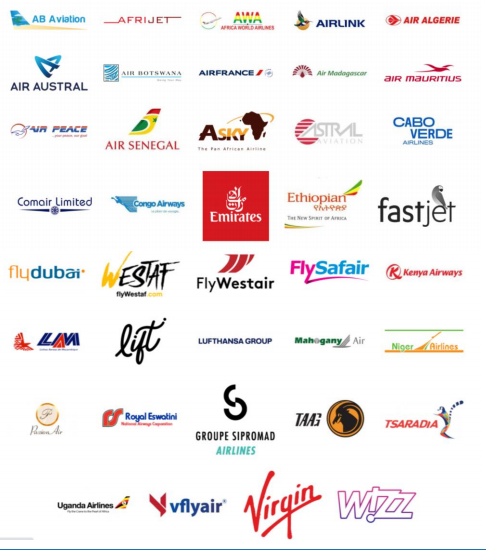 AviaDev attracts a wide audience including airlines, airports, suppliers, tourism authorities and also members of the public interested in aviation in the region. Key airline attendees include Airlink, Air France, Air Mauritius, Air Senegal, Emirates, Ethiopian Airlines, flyDubai, fastjet, Lift, Uganda Airlines, Virgin and WizzAir to name a few.
Prominent speakers at the event include:
Adefunke Adeyemi,  Regional Director, Advocacy and Strategic Relations, Africa, IATA
Jonathan Ayache, Chief Executive Officer, lift
Hon. Najib Balala, Cabinet Secretary for Tourism & Wildlife, Republic of Kenya
Patrick Collard, Chief Executive Officer, Ravinala Airports
Martin Gitonga, Head of Network Planning, Kenya Airways
Escher Luanda, Former Chairperson, Air Nambia
Sean Mendis, Aviation Expert
Wrenelle Stander, Former CEO, ComAir Ltd
Gad Wavomba, Sales Director, Embraer
Chris Zweigenthal, Chief Executive, Airlines Association of Southern Africa
Want to find out more about the event? Then check-out the AviaDev website here. We'll be posting live coverage and news throughout the event so be sure to visit our new Event News page here.