The plane crashed at Fath airport when it was meant to land at the nearby Payam International Airport.
A flight engineer was the only person on board to survive.
A decades-old Iranian Boeing 707 military cargo plane reportedly carrying meat from Kyrgyzstan crashed on Monday while trying to land west of Iran's capital, killing 15 people on board and leaving a sole survivor, authorities said.
The aircraft, which bore the paint scheme of the Iranian air force's Saha civilian airline, was making emergency landing around 8:30am Monday at Fath Airport, an airfield controlled by Iran's powerful paramilitary Revolutionary Guard.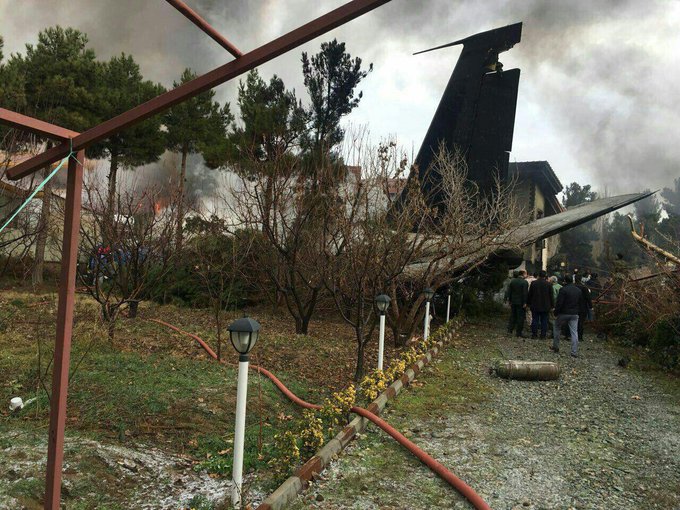 The plane skidded off the runway, crashed through a perimeter fence and into a residential neighbourhood.
Iranian state television aired images of smoke-charred homes and the fuselage of the aircraft lying on the ground in the neighbourhood. Nearby was one of its land gear, torn away. Small fires burned around it.
The plane was meant to land at the nearby Payam International Airport, about 40km (25 miles) west of Tehran, the Iranian capital.
Authorities did not immediately offer a reason for the crew's decision to land there.
Fath is some 10km southwest of Payam. Its runway is some 1,100-metres (3,600-feet) long, compared to Payam's 3,600 metres.
In November, a commercial airline reportedly mistook Fath for Payam, but was able to abort its landing.
Pirhossein Koulivand, the head of the country's emergency medical services, said that of the 16 people on board the plane, only the flight engineer was known to have survived.
Iranian media reported nine bodies from the crash had already been recovered.
The two government-operated aircraft serve in the VIP transport role. Of the six air force jets, three serve as tankers, two serve as intelligence assets, and the third as multi-role aircraft.
Grainy footage from the crash shows what appears to be a tanker boom along the bottom aircraft's tail. In addition, the jet's livery, with blue and red stripes running the length of the fuselage, is consistent with Iran's tanker fleet.
The average age of the fleet is 42.9 years.
Sources: SCMP, Fox News, FlightGlobal