Pakistan International Airlines was founded on 29 October 1946 as Orient Airways.  Initially it was based in Calcutta, British India.  When Pakistan became a newly independent country in 1947, it moved its operations to Karachi.  Orient Airways was later nationalised to form the Pakistan International Airlines Corporation (PIAC).
The Pre-70's Era: From Startup to Star
PIA has brought many achievements in the aviation field. It was the first Asian airline to fly a four-engine aircraft.  It was the second Asian airline to acquire the Boeing 707. The famous Roosevelt Hotel in New York and Hotel Scribe in Paris are also under the ownership of PIA. Faiz Ahmad Faiz, a famous poet of Pakistan, gave PIA a famous slogan "Great People to Fly With".  PIA's first International route was Karachi to London via Cairo and Rome. It inaugurated this international route by using a four-engine aircraft.
During the 1960s, Air Marshal Noor Khan was appointed as its managing director. In his era, PIA achieved remarkable success in 1961.  Under his leadership PIA started flying from Karachi to New York via London. For this route, it leased Boeing 707 from Pan American Airlines and become the second Asian country to install jet aircraft in its fleet. In 1964, PIA became the only non-communist airline to fly to China.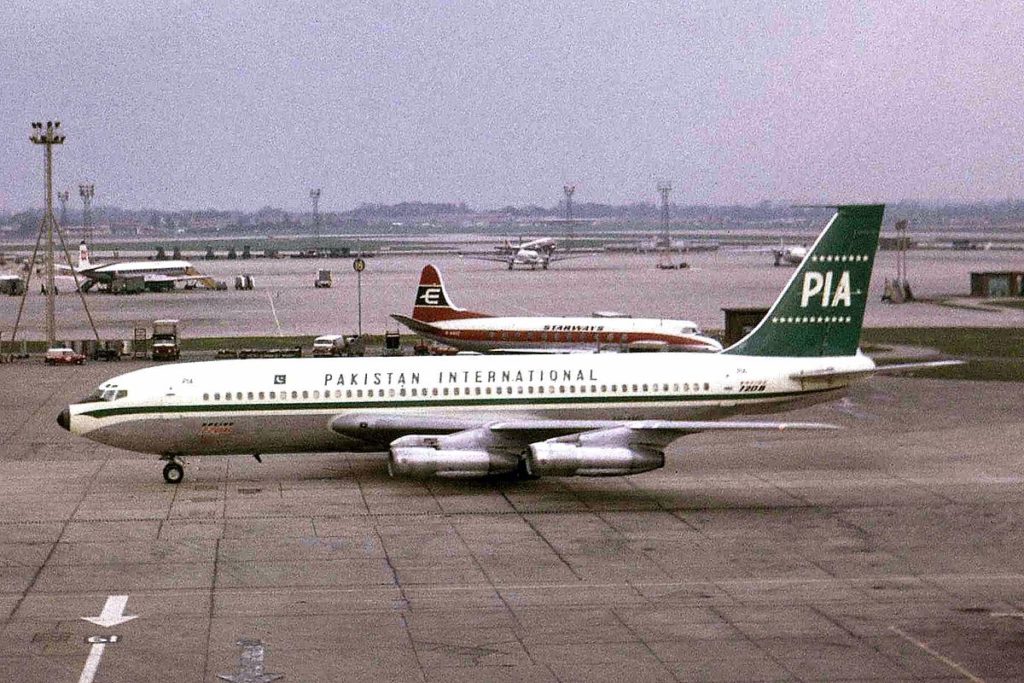 Pakistan International Airlines Enters the 70's
During the 1970s, PIA went through tremendous success. It appointed Noor Khan for the second time as Chief Executive, and also introduced a myriad of new destinations. In 1974 PIA introduced the International Cargo service, and then in1975, introduced a new, crew uniform created by Sir Hardy Amies – one of the leading designers of the 70's.
During this era, PIA also provided technical and administrative assistance to Air Malta and Air Philippines, by the end of the era PIA introduced hotel management services in the United Arab Emirates.
Emerging into the 1980s, PIA helped UAE based start-up, Emirates, in their establishing phase, leasing two aircraft to the carrier and allowing Emirates staff to train at the PIA academy. Skip forward to today and Emirates is one of – if not the – largest carrier in the world.
Into the 90's the carrier went, reaching liquity issues and then terrorism in the 2000's disrupting many of PIA's core routes. Ultimately these shaped the carrier into what it is today.
What are your thoughts on the developments of PIA from the 60s to late-80s? Let us know your comments down-below, and standby for part 2 next week!